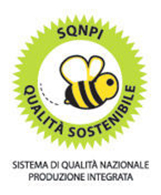 The ministerial seal "Sustainable quality", represented by a bee, guarantees the consumer products of the highest quality obtained by minimizing the environmental impact in the fields.
This European certification, called "National Quality System of Integrated Production" – SQNPI – is issued by the Italian Ministry of Agriculture on the basis of controls on the farmer's records and chemical tests on the leaves and the final products.
The control procedure, called "Integrated Production", follows standards set at European level (EU Regulation N ° 640/2014). It uses all means of defense against adversity, aimed at minimizing the use of synthetic chemicals and optimizing fertilization at the same time, in compliance with the ecological, economic and toxicological principals set forth by low (Law 4 of 4/2/2011).
The application of the exposed principles is verified by public officials, and their outcome is communicated on-line to the National Information System, that also tracks all agricultural and cellar operations.
Therefore, any lot of wine put on the market becomes fully traceable, making sure that the product only comes from SQNPI controlled vineyards. The goal is to preserve environmental biodiversity , minimize the use of pesticides and ensure correct management of the cellar.
This model derives from the most advanced European practices of
INTEGRATED FARMING ( IF ) and
INTEGRATED PEST MANAGEMENT ( IPM )
The SQNPI certification, that we have been granted since 2017, is for us an important achievement, placing us at the forefront of sustainable agriculture and cellar management, an important element of distinction in the market today
A new guarantee for the consumer, in addition to the traditional quality controls for DOC wines.
For more info open also Environmental Respect