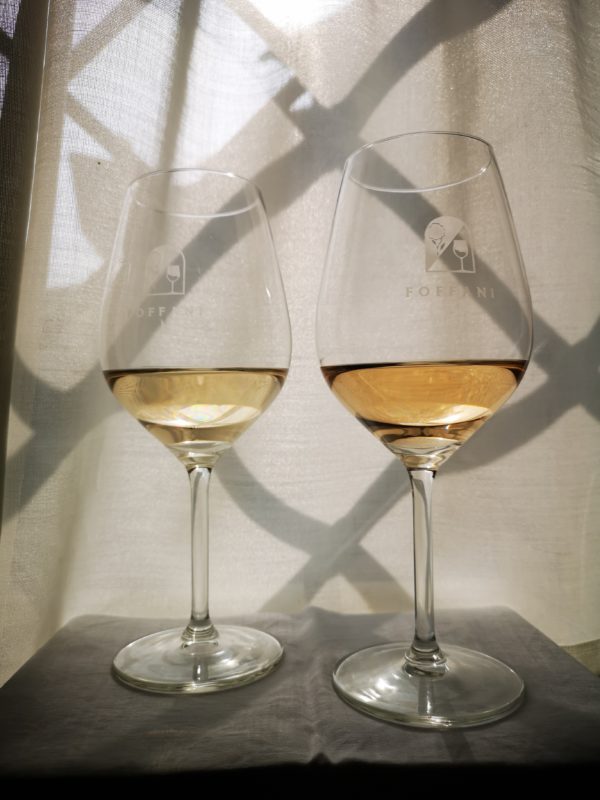 20 Feb, 2019

MERLOT BIANCO AND PINOT GRIGIO FRIULI 2018
Meet the Specialties of Last Vintage!
Merlot Bianco, our well-known "Blanc De Noir" from fully ripened Merlot grapes, has now a companion with the same level of exclusivity and unconventionality. FOFFANI is happy to first introduce the brand new PINOT GRIGIO FRIULI, with color " ramato"
Merlot Bianco 2018 confirms its delicate floral perfumes and a very modern character that makes it a trendy aperitif and companion of all raw fish specialties, clams and oysters, creamy soups and pasta with vegetables.
PINOT GRIGIO FRIULI with its delicate copper reflections is obtained after maceration of its grey skins, offers new intense sensations of grass, hay and green vine shoots, along with a touch of velvety tannins. A special wine with endless matching possibilities, for demanding customers.
Some technical features of PINOT GRIGIO 2018 DOC FRIULI (Subject to Certification, in due course):
Estate vineyards
Guyot pruning
No glyphosate, mechanical weeding
Grape production 11.000 Kg  per hectare
Destemming protected with frozen CO2
Natural decanting of must at low temperatures
All wine production in steel tanks
Fermentation at 15°C temperature
No malolactic fermentation
Batonage sur lies throughout winter
Bottling with sterile filtration
Production of 5.000 bottles
No anti-fermentative products used
Full traceability of production processes
Technological corks with absolute organoleptic security
Alcohol : 13% by vol
Sugar : 3 gr/l
Acidity  : 5 gr/l HTH
Dry extract  : 22 gr/l
Wine district : DOC FRIULI
Farm location CLAUIANO Friuli Italy
Vineyards : Braida Calligaris in Clauiano
Vines per ha. : 4000
Soil : Clay over gravel stones