08 Oct, 2020

October: it's time for the DIGITAL LASAGNA EXPERIENCE!

October is the perfect time to cook a great LASAGNA with PORCINI MUSHROOMS! Can you smell it? No? Not yet? No problem, let's try this DIGITAL LASAGNA experience ….
Step one: visualize porcini and garlic cooking in the pan, with good olive oil, cream and parsley.. can you smell it? Don't hurry, you are doing fine. Assemble the precious lasagna very carefully, layer by layer. Breathe in and enjoy.
Step two: Now there's the bechamel coating dripping out on the dish, along with some porcini piece. And the thin brownish parmigiano crust on top, grilled to perfection. How is the digital lasagna experience going now? You are ready to add some more details.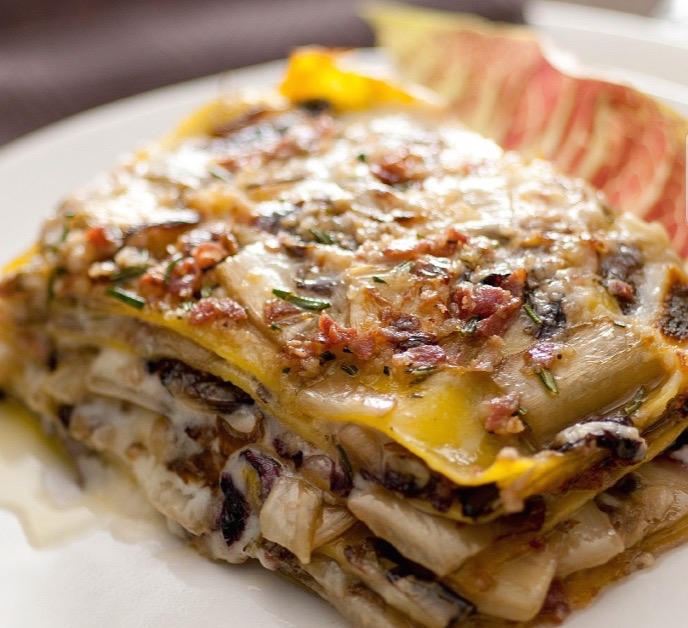 Step three: it's time to add the perfect wine match, PINOT GRIGIO RAMATO. Follow carefully the right sequence: take the cool bottle from the refrigerator, enjoy the beautiful copper color drawn from the grey skins, open it and pour the liquid in the right tasting glass. Pause, smell, repeat. Take your time to decript the multi-layered bouquet. This is a unique white wine, that is perfect for the incoming cold season. It's a winter white wine. Why? Because it's round, rich, velvety and it has tons of personality. And because Pinot Grigio Ramato and porcini mushroom lasagna are just made for each other!

How is your digital experience going? Now you are ready to transition from the DIGITAL LASAGNA EXPERIENCE to the SENSORY LASAGNA with Pinot Grigio Ramato. Take a tour in our E-Shop, the Ramato has a special October-price! Let us know how this heavenly duo improved your mood and day. Have a nice October guys!